Jocelyn K.C. Rose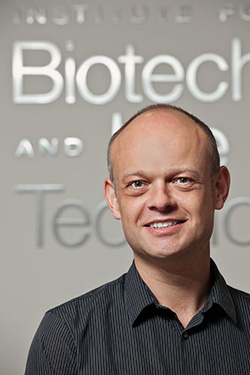 Jocelyn completed his undergraduate degree in Biology at the University of Manchester, UK before working for a couple of years for what was previously ICI Seeds (later named Zeneca Plant Science and then Syngenta) at Jealotts's Hill Research Station, Berkshire, UK.
He made the jump across the Atlantic to study for his Ph.D. at UC Davis, working on the cell wall biology of fruit ripening under his advisor Alan Bennett. In 1997 he moved to the Complex Carbohydrate Research Center, University of Georgia, to work in the lab of Peter Albersheim and Alan Darvill, where his research was focused on cell wall metabolism in the context of plant-pathogen interactions.
In 2000, he accepted a faculty position in the Department of Plant Biology at Cornell University where he has continued his interests in the many facets of plant cell wall biology and their societal importance.
In 2010 Jocelyn accepted the positions of Director of the Institute for Biotechnology and Life Science Technologies and Director of the Center for Life Science Enterprise, one of NY State's Centers for Advanced Technology. He is also operational manager for the McGovern Family Center for Venture Development in the Life Sciences.